Authors: Diego Franco, Christopher Edwards
*Ongoing study and published research
Abstract
Background
Post-breast explant procedures pose an ongoing global challenge for surgeons in the field of breast augmentation.
Postoperative complications, asymmetry, loose skin, and patient dissatisfaction may arise due to the pressure exerted by the breast implant, which can potentially lead to atrophy or retraction of the parenchymal breast tissue or the underlying pectoral muscle.
A frequently observed pathological correlation involves an imbalance between eccentric and concentric forces exerted by the breast implant and the innate elasticity of the skin. This imbalance often manifests as visible tissue atrophy upon explantation of the breast prosthesis.
Recent publications and social media discussions about Autoimmune/Autoinflammatory Syndrome Induced by Adjuvants (ASIA), also known as Breast Implant Illness (BII) and Breast Implant-Associated Anaplastic Large Cell Lymphoma (BIA-ALCL), have significantly influenced the perceptions of a large patient population that has previously undergone breast augmentation procedures.
Factors such as aging and implant deterioration often necessitate future interventions, including mastopexy or breast implant exchange procedures. Evolving trends also play a significant role in influencing patient decisions concerning desired breast volume and the pursuit of more natural-looking results.
These various considerations are integral to a surgeon's recommendation for breast implant removal and subsequent reconstructive surgery for eligible patients.
Surgical techniques for breast reduction, specifically those utilizing the inferior pedicle approach, are widely recognized and have undergone numerous refinements over time.
Methods
Patient Selection
Inclusion criteria
Ideal patients who qualify for the use of this technique have the following characteristics:
BMI < 35 provided that patients are good health
Pinch test in flap area greater than 3cm
Patients with no previous liposuction procedures in the Axillary and Intercostal regions
Patients presenting any level of mammary gland ptosis for whom the application of the WISE technique would be clinically appropriate
Patients that have not been diagnosed with ASIA syndrome or BII
No restrictive pathologies
Non-smoker
Patients that have agreed to the WISE pattern design skin resection
Anatomy and Preoperative Landmarks
LICAP perforator pedicles are identified and include the preoperative use of doppler ultrasonography to ensure maximum flap perfusion.
Surgical Technique
Preoperative Marking: De-epithelization is carried out using the Schwartzman maneuver in an inverted WISE pattern to shape the inferior pedicle flap, as described by Liasir Ribeiro. Following this, the existing breast implant is explanted, and if necessary, the pectoral muscle pocket is readjusted or closed. The inferior flap is then elevated and cephalically fixed. In ideal scenarios this should be the initial step to avoid compromising or causing further compression of the subsequent LICAP flap.
Flap Design and Dissection: The LICAP flap is designed in a rectangular shape, adhering to a 3:1 ratio, extending dorsally to the posterior axillary line. The flap dimensions typically range from a base width of approximately 6 cm to a length of approximately 12 cm. After infiltrating tissue of the marked area with Klein's solution, blunt undermining is performed using Metzenbaum scissors directed towards the skin surface, slightly wider than the flap to be harvested.
Electrosurgical dissection is then carried out laterally and dorsally until the latissimus dorsi fascia is identified, reaching pre-marked points as determined by Doppler ultrasonography assessment.
A minimum of two perforators should be included in this zone. The flap is preserved with a pedicle of at least 2 cm in width at its base and is turned over medially. It is sutured in place using 2-0 Vicryl sutures at three points: lateral, medial, and distal.
Hemostasis and Viability: Strict hemostatic control is maintained at the donor site, and the flap's perfusion and viability are confirmed.
Closure: Subsequent to these steps, the elevation of the inferior pedicle flap and closure of pillars and various planes are executed at the surgeon's discretion.
Images and Video
Photos – Before and After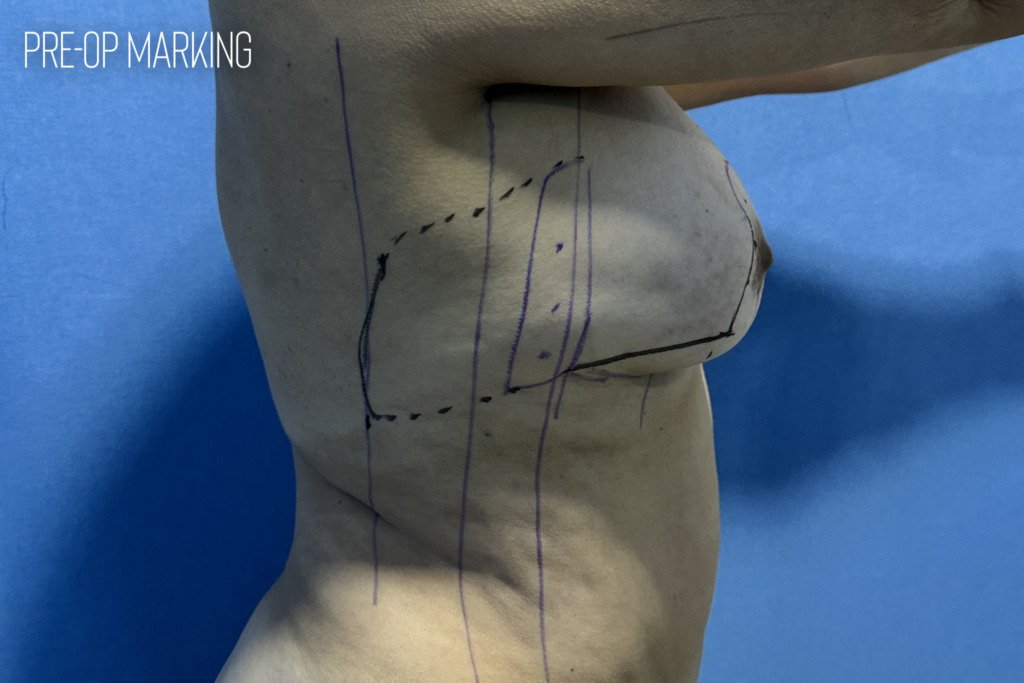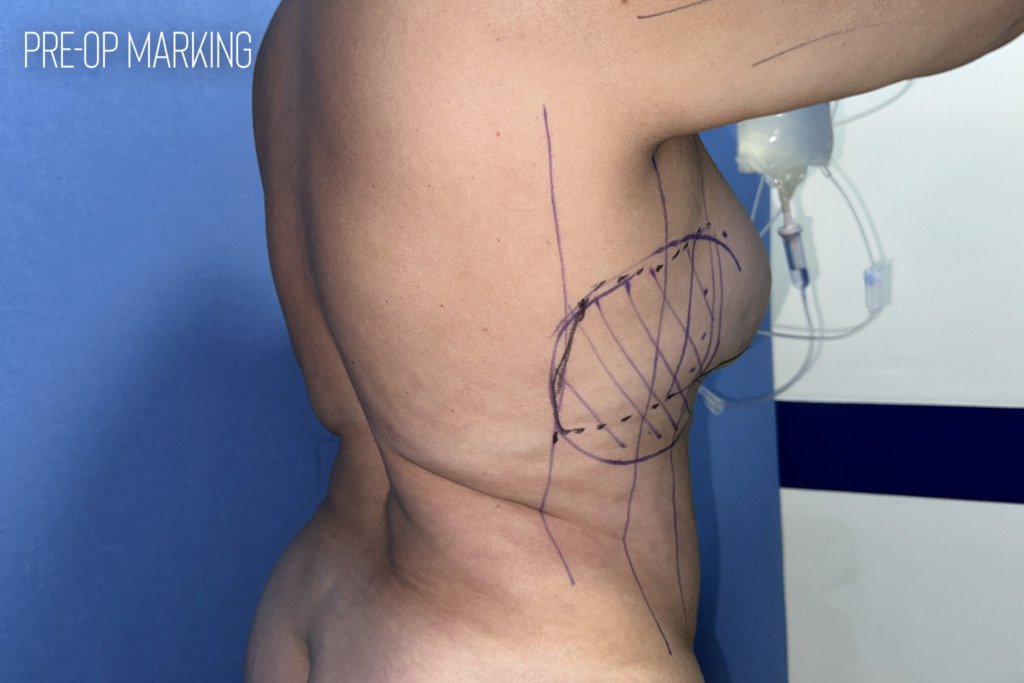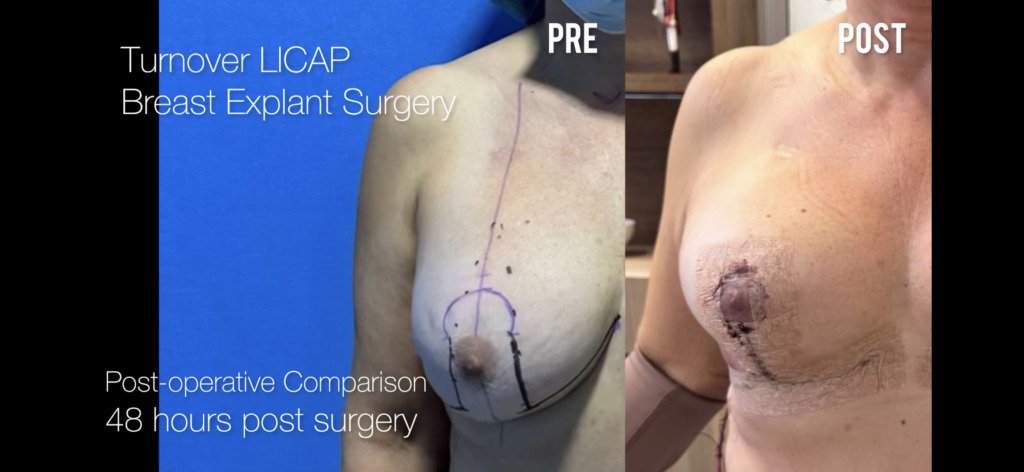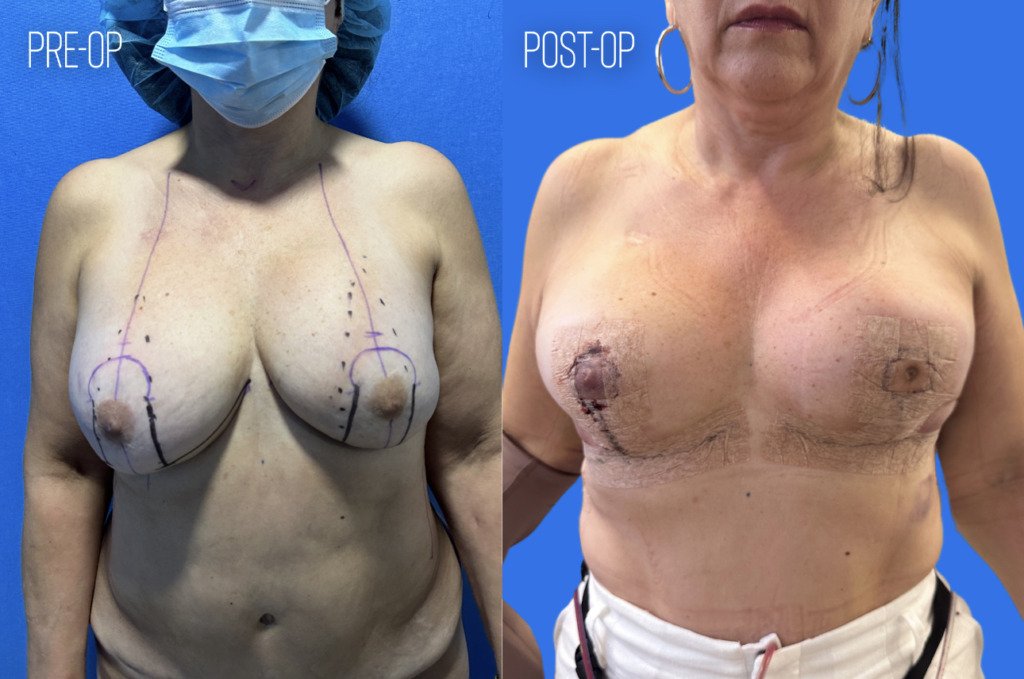 Videos – Pre-operative and Intraoperative video documentation
Results
Six (6) patients underwent twelve (12) turnover LICAP flaps for post-explant breast volume augmentation. Indications for volume augmentation included deficits from prior breast augmentation surgery six (6) patients. The average BMI was 29.9 kg/m2.
Flap survival was achieved in all patients. A Jackson-Pratt (JP) drain, inserted intraoperatively, serves to manage the accumulation of postoperative serosanguineous fluid. Three flaps (10%) had postoperative seroma formation which was managed in postoperative follow-ups with each patient. At the 1-month postoperative follow-up, stable results with good nipple position, breast shape, and projection were achieved in all patients.
Discussion
The LICAP flap has been used in oncological patients and breast reconstruction surgeries and also for cosmetic purposes after MWL massive weight loss or lateral defects and con morbidities of the breasts but never before has it been cited as an option for explanted patients.
The modified LICAP technique we have developed offers the multiple benefits inherent to the traditional LICAP flap, while eliminating the need for patient repositioning and yielding a more cosmetically appealing scar. Initial experiences with this novel procedure have been overwhelmingly positive, and it demonstrates a low rate of perioperative complications. However, as the duration of follow-up has been relatively brief thus far, long-term outcomes remain to be ascertained.
Conclusions
The turnover LICAP flap is a safe, effective, and reliable option for breast augmentation following breast explant surgery.
Keywords:
Autoaugmentation, Aesthetic Breast reconstruction, Breast Explant
© Copyright 2023 – The Author(s).
Conflict of interest statement:
The authors do not have any conflicts of interest to declare. The authors do not have any financial or personal relationships with other individuals or organizations that could inappropriately influence the work.