Direct from the doctors' desk
Dr. Diego Franco
Over the years I have learned through experience that cosmetic improvement and enhancement of one's self can be one of the most important choices a patient can make. We aim for success with every procedure to ensure the patients' transformation is met with deep satisfaction and reward while delivering safe, beautiful and natural results.
This responsibility allows us to take the privilege of altering the appearance of another human being to the next level all within the bounds of our medical ethics.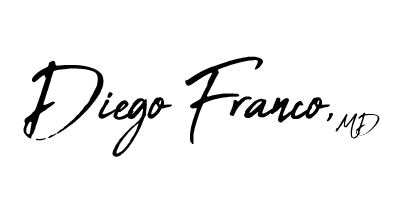 Questions? Need more information? Please send us a message via our contact page.
What we do
Our Mission
We have built our philosophy on 4 pillars that encompass what embodies a successful procedure with every patient that leaves our operating room.
1. Safety
We are affiliated with multiple medical facilities in the cities of Medellín, Manizales, and Bogotá that are ranked amongst the top in the country. Safety is very important to all of our patients and we ensure that every procedure is accompanied by a robust insurance policy to protect you in the event of a complication. Each facility is accredited by the Colombian Health and Social Protection Ministry.
2. Trust
Nothing is more important to us than earning the trust of our patients. When it comes to a life-changing event such as plastic surgery you need to trust your plastic surgeon and the decision you are making. We open our doors to all of our patients before and after surgery to facilitate open communication about surgical procedures, concerns, doubts, pre and post-op needs, aftercare and medication. Communication is a crucial necessity in any doctors office and something you can count on from our team.
3. Education
Information and knowledge are key to successful procedures. We take our time to assess each case to answer questions and properly inform the patient before they enter the operating room. These details allow for a complete understanding of every phase of the surgical procedure ensuring the patient undergoes surgery with confidence and ease.
4. Comfort
From the moment you walk into one of our operating rooms, our staff and the medical team are working diligently to ensure your comfort and satisfaction. This starts in our waiting rooms, where you'll be treated as one of the family. Your experience is our priority!